Welcome to our 5th link party! We are so glad to have you all here for our Sunday Round up!
This is a shared party, so you'll get more publicity & save time.
If you link up to one party your post shows up on all 3.
Can't wait to see what you all have got to show us!
We will be picking 3 posts (each) to feature each Sunday.
Here are my features:
So I seem to be having a lot of problems trying to make up my mind on who to feature. So congrats to the following on your features. :)
Want to know how to make your own ice cream at home? Without a machine? Then head on over to
A Crafty Cook
and see how she made this yummy vanilla ice cream!
Who loves bacon? I DO! Isn't this the neatest flower
arrangement
you have ever seen? I know I am saving this idea, it's a wonderful story on her husband got a promotion. So head on over to
Will Cook For Smiles
and read her post.
Love this idea! I think I need one on our door coming in from the garage. Go check out her wonderful post over at
Mum of All Trades
.
Now I have see this all over the web... But never a wonderful tutorial like this one. I have short hair now and I am going to give a shot with a half up do. Head over to
The view from in here
, to see how to make your hair look like a bow.
Love how her yarn bottles turn out. I find myself saving jars and bottles now. Great way to add a little decor to your home. Most likely its all things you already have on hand. Check out the tutorial over at
Serenity You
.
Do you have a little girl that loves to play with a tea set? Do you have a lot of left over plastic eggs from Easter. Here is an awesome idea on what to do with them! Check out what
The Moody Fashionista
did to make these cute little tea cups.
Now before we party we have a few rules.
1: You are welcome to link up anything you'd like.
Just keep if family friendly.
2: It has to be to a specific blog post.
3: Please link back to us, either with our button or with a back link on your blog.
That's it! Told you it was simple.
If you have been featured then grab a badge.
(Be sure to check out all three blogs to see if you have been featured. We all choose our favorite.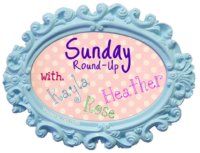 <a border="0" href="http://www.heatherlyloves.com/" target="_blank"><img src="http://i1055.photobucket.com/albums/s507/HeatherlyLoves/roundup2.jpg"/></a>
Featured Button: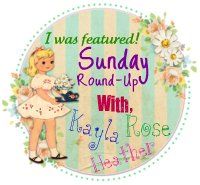 <a border="0" href="http://www.heatherlyloves.com/" target="_blank"><img src="http://i1055.photobucket.com/albums/s507/HeatherlyLoves/featurebuttonsunday-1.jpg"/></a>